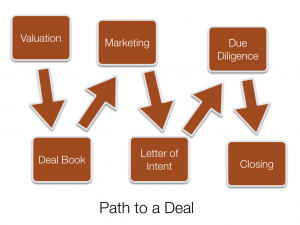 There are important differences between residential and commercial real estate deals. That's true for commercial deals in the U.S. and it's certainly true for the Costa Rica commercial deal process as well.
What is a commercial real estate deal?
To answer that let's say what it isn't. Is isn't a deal in which the property is being purchased solely for personal use. However, there are situations in which a property could be purchased for both commercial (or business) and personal uses, such as the purchase of a B&B in which the owner plans to both live in the property, as well as operate it as an ongoing business.
So, there are some "grey areas." However, rest assured that in transactions construed as "commercial", certain extra precautions will generally be taken due to the size and complexity of these deals.
There are four major steps to closing a commercial real estate deal.
The Escrow
As it is with residential properties, escrow is an important part of the commercial real estate closing process. This is when a neutral third party holds funds in an account until (1) all of the requirements of the escrow agreement have been met, or (2) one party pulls out of the deal in accordance with the terms of the escrow agreement. Escrow is designed to solve the problem of trust between two parties. Nobody gets paid or receives title to the property until both parties have had their agreed upon conditions met.
Because of the complexity and larger sums of money in commercial deals, escrow in this setting is formal and tightly controlled. Capital for a commercial transaction can come from many different sources. The parties must do more due diligence to protect their investments. The paperwork involved in commercial deals is usually more highly customized and extensive than in residential deals.
Despite those differences, there are several escrow agreement provisions common in both commercial and residential deals, such as:
1. Clause appointing the title agent to act as escrow agent and to waive any fee acting as an escrow agent
2. Clause ordering escrow agent not to commingle funds sent by the buyer with any other monies.
3. Statement of when written instructions from buyer and seller need to be received before funds can be released.
Entities
Commercial real estate deals almost always involve one or more contracts between two or more legal entities. Because of the larger sums of money involved all parties will want to limit their liability. Legal entities are created ahead of time for the purpose of participating in the deal and taking ownership of the property. Care must be taken to assure that any entity so used, such as a corporation, or LLC, possesses the fitness and ability to legally conduct the transaction with the requisite authority.
Even existing legal entities buying additional property will sometimes create a new legal entity, or subsidiary, to isolate the risk of acquiring or selling a piece of property.
Authority
Even though a corporation, or other legal entity, may be the actual party to a transaction, a human being will still need to sign and execute documents of the behalf of the entity. This creates an extra layer of paperwork in the commercial real estate closing process.
Both sides will want proof that the person signing on behalf of the entity has the authority to do so. Proof of signing authority can be in the form of a corporate resolution from the board of directors that expressly gives the individual signing such authority.
Competing Interests
In a commercial transaction the buyer will attempt to preserve the right to withdraw from the deal as long as possible, while the seller will try to limit the right of the buyer to withdraw. It is often stated that time is on the buyer's side, since the more time the buyer has to close the deal, the more time the money stays in its pocket and the more time it has to back out of the deal!
Buyers are generally looking to add contingencies that protect their interests in the deal and sellers are looking to close all contingencies as quickly as possible. The buyer will also attempt to keep the seller on the hook for as long as possible for potential problems that could become apparent post-closing, while the buyer will want to terminate its liability as close to the closing date as possible. These parties will attempt to resolved these tensions in the due diligence process and in the protection afforded by the closing documents.
Buyers will want to make sure the following areas are in order:
The contract of sale has been properly executed
Receipt of most recent title insurance policy
Updated survey report
Receipt of true copies of all leases
Review of new environmental report
Termination notice conditions and due diligence deadline
Review of the seller's books and records
Confirmation of zoning compliance
Search for any outstanding tax cases or liens
Sellers will want to make sure the following are in order:
The contract for sale has been properly executed
Buyer has delivered down payment to escrow agent
The escrow agent has deposited the money in a segregated interest bearing account
Filed a response to any objections to the title and survey report
Execution of assignment and assumption of leases by buyer
Every transaction is different and certain deals may require even more steps in the due diligence process than those discussed above.
Closing
Before a deal can be completed the buyer and seller must both agree to accept a title report and execute a series of closing documents. The closing documents may include assignments and assumption of leases, deeds, environmental reports and assignments of liability, zoning disclosures and warranties, and anything else the parties decide is necessary to close the deal.
How does the Costa Rica Commercial Deal Process Differ?
The above comments make no distinction between deals in the U.S. and those in Costa Rica. However, as you could imagine, there are some important differences for the Costa Rica commercial deal process…
1. The terminology is of course different. The language in Costa Rica is Spanish and many of the same concepts apply, but with Spanish terminology.
2. Everything takes longer in Costa Rica. That certainly is the case with forming entities and having them commercial transaction ready. Care must be taken to plan this out ahead of time.
3. While Costa Rica has a digital and fairly reliable national registry, there can be errors and omissions that make having a reputable and experienced local attorney conduct a registry search an absolute necessity.
4. Costa Rica can be very bureaucratic when it comes to environmental protections. Care must be taken not to run afoul of the law and risk having the government step in and cause trouble. This is especially the case when concerning "Maritime Zone" restrictions for coastal properties within 200 meters of the high tide mark.
5. Care must be taken to carefully ascertain property lines, especially when dealing with large tracts of rural land.
6. Costa Rica is a gateway for drugs passing from areas to its south to regions further north. For that reason local banks exhibit a high degree of caution against money laundering and this can cause problems when it comes to large international cash transfers. Care must be taken ahead of time to make sure this does not result in "wrinkles" with the closing process.
7. It's true in the U.S., and even more-so in Costa Rica, that staying out of court is a major prerogative. Costa Rica has a different legal system that the U.S. It is based on Spanish "codified" law, as opposed to English "common" law. Moreover, the courts in Costa Rica stay hopelessly backlogged. It pays to take every precaution against having to sue to enforce or protect your rights.
All of the above "local country" issues should not be a problem in your commercial real estate transaction as long as they are anticipated and correct action is taken to deal effectively with them.
Much of the above was excerpted, in modified form, from an article in propertymetrics.com.
Subscribe Today
Sign-Up for Updates and Info